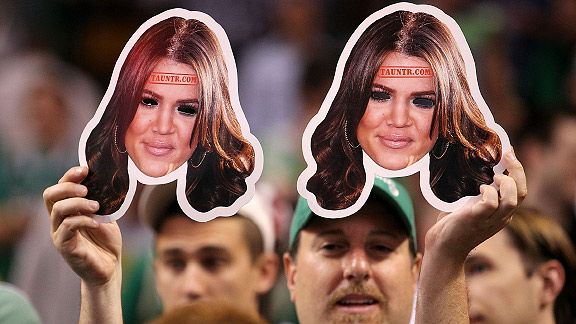 Ronald Martinez/Getty ImagesForget distraction. Apparently Odom was happy to see a friendly face in Boston.
Considering Khloe Kardashian had another commitment, Lamar Odom might have been under the impression that he wasn't going to be able to look into the stands and see his reality-star wife during Game 3 of the NBA Finals. Boy, was he wrong.
Before Tuesday's Lakers-Celtics meeting, the folks at Tauntr.com distributed 5,000 Khloe Kardashian masks outside the TD Garden, instructing fans, "Bring in your mask and wave it every time Odom touches the ball, ensuring that his poor Finals performance continues."
Yeah, that worked.
"They were trying to run me off my game," a smiling Odom told the Los Angeles Times of the stunt afterward.
(For her part, the real Mrs. Lamar Odom was actually in New York appearing on Letterman.)
Of course, had Tauntr.com done a little digging, it might have discovered that the weird-eyeless-mask-of-a player's-girlfriend/wife trick rarely works.
RuinRomo.com produced masks of the Dallas quarterback's then-girlfriend Jessica Simpson in 2007. Romo went 13-3 and became the first Cowboy to pass for more than 4,000 yards in a single season.
In 2008, the blog Sox & Dawgs put out a Madonna version to taunt Yankees slugger Alex Rodriguez. Yankees fans might want to think about bringing them back because that was the last time A-Rod hit over .300.
As Odom proved, there's nothing like seeing a familiar face in the crowd -- or 5,000, for that matter -- to break a player out of a slump.