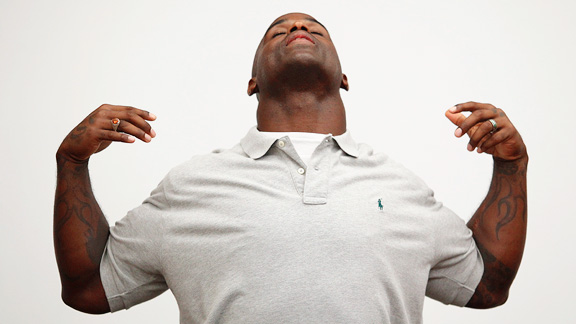 Tom DiPace for ESPN.comDolphins running back Ricky Williams knows his newfound passion for meditation might open him up for ridicule, but says the practice helps him focus on game day.
DAVIE, Fla. -- For 23 minutes in a darkened room, I meditated with Ricky Williams.
Never conscious the man helping me achieve transcendence is one of the NFL's most spellbinding figures, I sat, palms up and serenely, in an intimate group of eight. Golden flames appeared on our heads. Brilliant light pulsated from us into the earth.
Not literally, of course. That might take a few more sessions to master.
Yet for a moment here and there, I actually felt it.
"If you can get one second of that peaceful feeling," Williams told me afterward with a knowing grin, "it's a good meditation."
For the past five Wednesdays and continuing as long as anybody wants to experience it, Williams has extended an open invitation to meditate with him in a quiet classroom on the Nova Southeastern University campus. It's where he's working on his undergraduate degree. He might get into osteopathy. He charges no fee to stop by for some oms.
Mystifying is that more people don't attend. He sends out frequent reminders of the time and location on his Twitter account. You'd expect a handful of lookie loos or die-hard Dolphins fans would show. But on this Wednesday, only eight people participated. That's the most so far, and the main reason Williams called the session his most energetic.