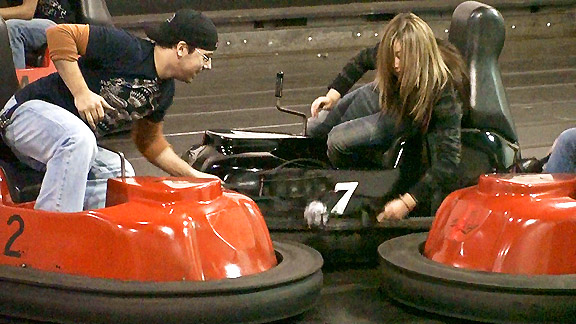 Courtesy of WhirlyBall ChicagoThe Wiffle-like ball must be scooped up, but nine times out of 10, it just gets pushed around.
VERNON HILLS, Ill. -- THUMP!
What do you get when you combine bumper cars with lacrosse and basketball?
The answer is a game called WhirlyBall, a sport seemingly born out of an 8-year-old's imagination. Picture this -- two teams of five in bumper cars in a room measuring half the size of a basketball court.
The players are all wielding equipment similar to the long, curvy cestas used in jai-alai. And the goal is simple -- gain control of the white Wiffle ball placed in the middle of the court and use the sticks to throw it through a 16-inch hole in a board 10 feet above the ground.
Sound easy? Not so much say the sport's enthusiasts.
"If you try to scoop it [the ball] up, nine times out of 10 you're gonna push it away," says John Krol, marketing director for the Chicagoland-area WhirlyBall locations. "Steering is also one of the biggest challenges. It's kind of like driving your car with the bottom of the steering wheel."