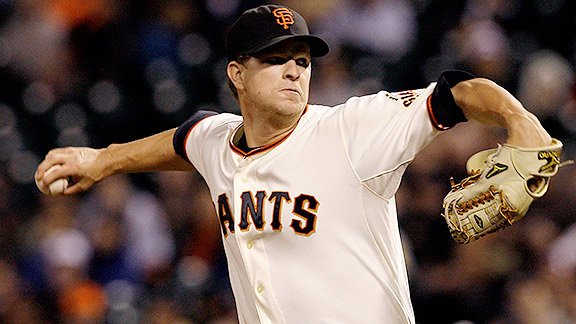 AP Photo/Jeff ChiuSan Francisco's Matt Cain is one of the National League's best pitchers the past five years.
While some wonder when baseball is going to get instant replay, we're here to say that the game has gotten religion. At least in this space. With a tip of the tiara to baseballreference.com, we present the All-Faith Team.
PITCHERS
Matt Cain: The son of Adam and Eve, Cain killed his brother when God endorsed Abel's animal sacrifices over Cain's harvest. Scholars of ancient Greek say Cain means "from the evil one." NL hitters won't argue. Matthew Thomas Cain of the Giants has been one of the game's best pitchers in the past five-plus years.
Monk Dubiel: Walter John Dubiel played seven years from 1944-52 with the Yankees, Phillies and Cubs. And you can't say this Monk shunned contact with other humans. He faced 984 batters in 1944. That was good for the eighth-highest total in the NL.
Noah Lowry: The resourceful fellow from the flood story took animals in groups of two. The unfortunate pitcher gathered injuries in pairs. At age 26, he went 14-8 for the 2007 Giants but was felled by a succession of ailments and hasn't pitched since.
Preacher Roe: This native of Ash Flat, Ark., derived his nickname from a local minister who would take the toddler on horse-and-buggy rides. An All-Star from 1948-51, Elwin Charles Roe went 44-8 for the Dodgers from 1951-53.