On Monday, Broadways fans will be asking Kristin Chenoweth about her long kiss -- "the kiss heard around the world!" -- with "Promises, Promises" costar Sean Hayes at the start of Sunday's Tony Awards.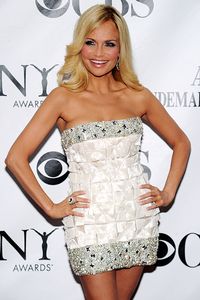 Bryan Bedder/Getty ImagesKristin Chenoweth appeared at Sunday's Tony Awards in New York and gave host Sean Hayes a kiss.
But she'd rather talk basketball.
"What happened to my Lakers?" said Chenoweth, who counts the Lakers as her second favorite team behind her home team of the Oklahoma Thunder. "My Thunder, with Kevin Durant, is a team to be reckoned with. If I can't root for them, then I'm rooting for the Lakers. I love Pau Gasol. I wish he'd marry me, but he'd have to shave first."
Chenoweth, who has spent the past 10 years working on Broadway after growing up in Oklahoma, said she thinks she became a basketball fan because of her height. She didn't get a chance to watch the Lakers lose Game 5 of the NBA Finals to the Boston Celtics.
"Maybe I like it because it's something I couldn't master. You know I'm only 4 feet 11," said Chenoweth, who has written a book, studied opera, appeared on television and has sung gospel in church. "Sorry, fans, I can't be a fan of the Celtics, though. I just like the Lakers too much."
Chenoweth was making the interview rounds talking about the fourth annual Father's Day Frosty Weekend in conjunction with the Dave Thomas Foundation for Adoption. During this weekend, Wendy's will donate 50 cents from every Frosty product sold to the Dave Thomas Foundation for Adoption, a non-profit public charity dedicated to increasing the adoptions of the more than 123,000 children in North America's foster care system.
Chenoweth, 41, herself was adopted by two engineers in Broken Arrow, Okla. "We don't look alike and they are never allowed to sing out in public," Chenoweth joked, "but adoption is obviously very important to me. Every human needs love."
Oh, and about that kiss: Hayes, who was hosting Sunday's Tony Awards, implied to the media last week he might show the world that he can be convincing as a straight man in his play. So, on stage he made out with Chenoweth.
"I know what you thinking," the 5-foot-11 openly gay former star of "Will and Grace" said. "She's too short for me."