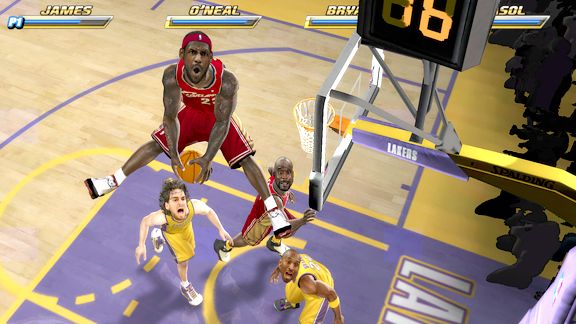 EA SPORTSNBA Jam and its boom-shaka-lacka is making a comeback on the Wii in 2010.
The bad news is actually the good news this year for the Electronic Entertainment Expo (OK, E3 for you gamers).
Newsflash: the economy is crappy and not all of us can afford to spend money on big titles. Of course that means that companies are stepping their game up to compete with the plethora of free, low system requirement social network games that have exploded in the last year (which likely counted for low-work productivity for some of you lads).
There will be some upgraded classic titles, some new, exploding sports titles and a few dusted off old favorites. Before the expo kicks off on Tuesday (it goes until Thursday at the Los Angeles Convention Center) Scott Steinberg, head of TechSavvy, a video game consulting firm, checks in to give us a heads up of what the big sporting videogame news will be out of the conference this week.