Tony Parker won't get to enjoy the World Cup on Thursday.
Not with his wife hanging around.
Eva Longoria Parker, an actress on "Desperate Housewives," is of Mexican descent and will be rooting against her husband's team when France takes on Mexico.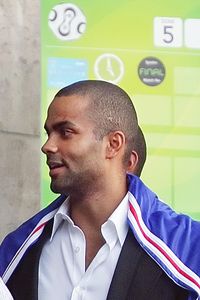 Nicolas Asfouri/AFP/Getty ImagesTony Parker left his vacation with Eva Longoria in 2006 to come back to root on France in the World Cup. Tony, are you crazy?
"It's going to be a big war between me and my wife," Tony said. "She's going to wear the Mexican jersey and I'm going to wear the French jersey."
Eva may be looking for a little revenge from the last World Cup. The couple was on vacation in Tahiti when France made it to the Finals in 2006. Tony cut the trip short to go root for his team.
Parker grew up in France where soccer is the national sport. He played for several years as a kid and believes had he stuck with it he'd be representing France on the pitch this week.
"Definitely. With my speed I would be a good complement to Thierry Henry," Parker said.
Parker and Henry, a forward for France, are lifelong friends. They speak every couple of days and neither is happy about their team's disappointing 0-0 draw with Paraguay in the first game.
But Parker is keeping himself busy. This week he's in New York to serve as a judge for the Gillette Fusion ProGlide "Ultimate Summer Job" contest. Also on the panel are wrestler John Cena and ESPN personality Erin Andrews. They'll decide who wins $50,000 and a trip across the United States this summer to promote Gillette's new razor.
Parker, known for his two-day stubble, is even considering going clean shaven every day next season.
"I don't know. We'll see," he said. "I'm sure Eva would like me to shave every day."
She'd also like for Mexico to beat France on Thursday, but Tony just doesn't see that happening.
"It's going to be tough," he said. "Mexico is a solid team, but I think we'll get the win."