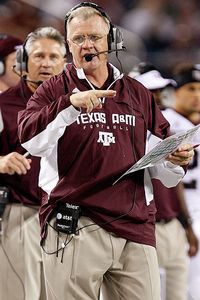 Ronald Martinez/Getty Images
Texas A&M football coach Mike Sherman spoke about the recent near-collapse of the Big 12 in an interview with KBME in Houston.
Instead of simply trying to get off the hot seat at A&M, where he's 10-15 in his first two seasons, Sherman had to worry about whether his team's future is in the Pac-16, SEC or Big 12.
Sherman on recent conference uncertainty:
"We have a lot of healthy rivalries in this state, a lot of tradition playing different teams, and I think that weighed heavily in the decision to keep the Big 12 as it is today."
Sherman on his role in conference negotiations:
"These types of decisions, contrary to what people may or may not believe, are left up to our AD, our president, and our regents. They did a lot of research and development of putting information together and talking to different parties. My opinion was asked on what I thought. We talked about different scenarios and what was best for Texas A&M, but I just kinda kept working on football stuff."
• Click here for transcript highlights of the interview from Sports Radio Interviews.