Most baseball fans know all about Washington Nationals rookie pitcher Stephen Strasburg at this point -- winning one's first two MLB starts in dominating fashion will do that to a guy.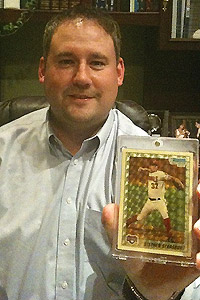 Courtesy of Robert PowerRobert Power paid more than $16,000 for the rookie card of Stephen Strasburg.
You know, make him a household name.
But late last month, Strasburg was getting noticed for different reasons -- well before he struck out 14 Pittsburgh Pirates in his MLB debut in his first start and well before he brought the Cleveland Indians' grounds crew to the forefront of the baseball world for the first time since "Major League" on Sunday.
Strasburg was getting noticed because one of his first baseball cards in a Nationals uniform sold for more than $16,000 -- and that was before two MLB victories and all of those Walter Johnson references from Bob Costas.
One has to wonder what Strasburg's 2010 Bowman Chrome Prospects SuperFractor might fetch now, but you'll have to keep wondering as the one-of-a-kind card is squarely in the hands of 37-year-old Michigan-based accountant Robert J. Power, who, like many baseball fans, remembers the pop culture wave of card collecting in the 1980s.
So, the obvious question is why would he buy the card?
"I focused on this card because I believe Stephen Strasburg is truly the LeBron James of baseball," said Power, who also collects Roberto Clemente and Rod Carew along with cards from the 1960s and 1970s. "This past presidential election, everyone wanted change. Well, I think baseball and sports needs the same and players like Stephen Strasburg can provide that change while being positive role models for today's children. I highly doubt we'll see Strasburg strike someone out and then do a crazy dance on the mound to taunt the opposing team. He is married, has a great work ethic and has succeeded on all levels."