Texas found itself at the epicenter of recent conference realignment discussions.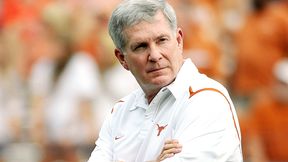 Brendan Maloney/US Presswire
Now that the school has opted to remain in a slimmed-down version of the Big 12, Longhorns football coach Mack Brown spoke about the experience with Scott Van Pelt on ESPN Radio.
Brown on the Big 12:
"I wanted to stay. What we had is the known here ... I felt like it was best for us to stay. Our staff was 100 percent ... Our recruiting has been so good to us in this state that they can drive or have short flights to see every game and we like the deal we got."
Brown on the economics of big-time college football:
"Last year, I think, I was told, that only 19 athletic programs in America that play Division I football made some money. Everyone else is in trouble. For anyone to think that the money is not important, is fooling themselves."
• Click here to read transcript highlights of the interview
• Click here to listen to the interview from "The Scott Van Pelt Show"