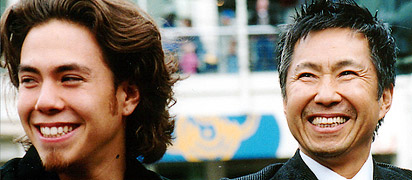 AP Photo/Anna Mia DavidsonYuki Ohno on the soul patch of his son, Apolo Ohno: "That surprised me when I first saw it. That started around the 2002 Salt Lake Olympics. I think he was too busy to go to the barber shop."
Sunday is Father's Day, and Apolo Anton Ohno has more appreciation of that holiday than ever before.
"I guess you could have classified me as defiant as a kid," said Ohno, who is the most decorated American Winter Olympics athlete of all time with eight medals. "I was struggling for my independence and my dad was giving me tough love. I wasn't having any of that."
Ohno, whose parents divorced when he was an infant and he stayed with his dad, said they argued all the time.
"Our relationship was shaky," said Ohno, who revolutionized the sport of short track speed skating. "But because we learned from those times, our bond is much stronger today. We had to taste the bitter before the sweet."
Ohno's dad, Yuki, said there were a lot of low times when Apolo was growing up. Yuki is a salon owner in the Seattle area and worked all day, so Apolo didn't have a lot of supervision.
"It was a quite an emotional time because he was such a strong-willed kid," said Yuki Ohno, who pushed Apolo into sports to keep him out of trouble. "But my emotions today on our relationship is indescribable. I'm so proud of my son."
That's why Apolo has pledged his support for the "Ask, Listen, Learn" program to help middle school students handle peer pressure to stay healthy and make sound decisions.
"My life was saved. My dad saw it in me to push me in the positive direction," Apolo Ohno said. "I'd like to help teach kids that they can overcome anything. We want these kids to believe in themselves."