The theme behind Dove's new men's skin care line is being comfortable in your own skin, so who better for the campaign than New York Yankees manager Joe Girardi who is so at ease with himself that he agreed to get braces at age 45 just to lessen his daughter's apprehension when she learned she needed the hardware.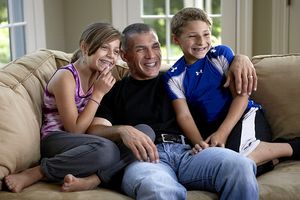 Gregor Halenda New York Yankees manager Joe Girardi shows off his braces with his kids, Serena and Dante.
"What I didn't realize when I made the deal is that she only had to get four on her front teeth and I got the full mouthful," Girardi said, who claimed that his teeth were in fact crooked from the amount of foul tips he took off the grill as a catcher. "And now my son has braces and he said that I made another deal, which I don't recall, that I would get color rubber bands so I had some blue ones put on last week. It's a good look."
Girardi's 15-year playing career included a four-year run with the Yanks in which he won three World Series rings in 1996, 1998 and 1999. His first managerial stint was a one-and-done with the Marlins in 2006 before taking over for his friend and mentor, Joe Torre, in 2008 in New York where he won his first championship last season.
On Thursday, the manager was all smiles with his Yankee blue bands when camera crews descended on his Westchester, N.Y., home to shoot a 90 second spot of the skipper's downtime -- bouncing on a trampoline, lying in a hammock and playing air hockey with his wife of 21 years, Kim, and their three children -- Serena, 10, Dante, 8, and little Lena, 3, who they call Bean. After the wrap, Girardi talked to Page 2 about what made him as relaxed as he is today.