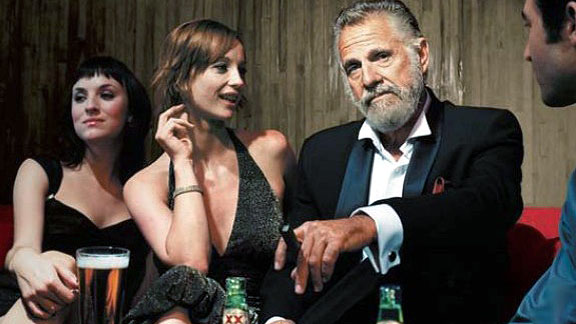 Cuauhtemoc Moctezuma BreweryIf you're looking to live an interesting life, remember to stay thirsty.
His reputation is expanding faster than the universe. Kobe Bryant? Nope. He lives vicariously through himself. T.O.? Probably, but no dice. Sharks have a week dedicated to him. Albert Haynesworth? Wrong again, sports fan.
Of course we're talking about the Dos Equis guy. Better known as the Most Interesting Man in the World. Turns out the worldly fellow in those beer commercials is actually 71-year-old actor John Goldsmith, a veteran of over 40 years in Hollywood who starred in '80s hits Dallas and Knots Landing.
He got the role by auditioning at a cattle call with 400 other interesting wannabes and was called back several times before finally winning the part.
The devilishly clever ads can be recited verbatim by nearly every dude who owns a couch and a TV.
They chronicle the amazing accomplishments of a silver-haired adventurer who explores caves with beautiful women and dominates the jai alai tour while dispensing nuggets of advice with an unflappable cool.
Come on, who among us hasn't dreamed about having a drink with him? Well, turns out Mr. Goldsmith is something of a sportsman in real life.
But when you're the planet's most sophisticated playboy you haven't time for interviews. Even still we managed to get a few words out of him recently. Sadly, not over drinks.