OAKLAND, Calif. -- Washed-up athletes seeking a little more limelight and a lot more money often go to Hollywood.
But by the time Trevor Bell debuted with the Los Angeles Angels last season, he'd already logged more than a decade in front of the camera.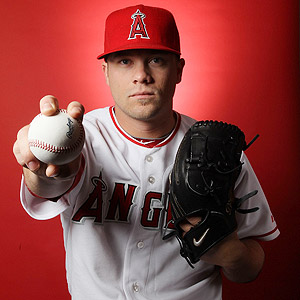 Jed Jacobsohn/Getty ImagesTrevor Bell first appeared in a Hot Wheels commercial when he was 8 years old.
The budding pitching star, 23, first appeared in a Hot Wheels commercial when he was 8.
He's done numerous spots since then, including a Wendy's commercial earlier this year.
"It's not really acting," Bell said of his commercial roles, which require no theatrical training. "I grew up in L.A. and it was always around. It was something that I wanted to do."
Although baseball is Bell's passion, show business is in his blood.
He's the grandson of character actor Bob Bell, who in 1960 started a 25-year run portraying Bozo the Clown on Chicago's WGN.
His two older brothers, Brandon 29, and Jared, 26, are in the industry too (Jared has made spot appearances on "CSI: Miami" and "Cold Case," and Brandon, who played college baseball, does commercials and modeling).
After he throws his last pitch, Trevor said he'd like to try some theatrical roles. But these days his "day job" is all about squashing drama when summoned by manager Mike Scioscia.