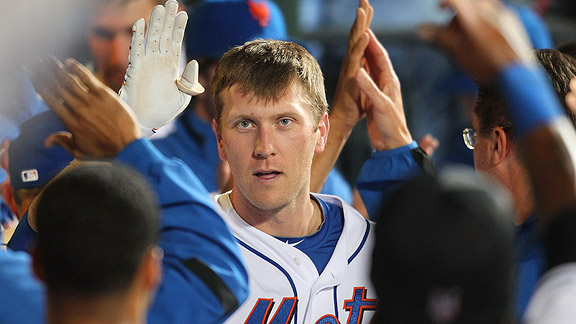 Nick Laham/Getty ImagesJason Bay, the National League Rookie of the Year in 2004, made our 'All-Aquatic' sports team.
With the official start of summer a few days away, it's time to ponder cool breezes and water-focused recreation. And so we present the Page 2 "All-Aquatic Team" for 2010.
Jason Bay: The NL Rookie of the Year in 2004 was a 22nd-round draftee by the Montreal Expos. Only two players with less respect on draft day have won the citation: 62nd-round choice Mike Piazza and unclaimed John Montefusco.
Pat Beach: Don't blame Beach if he felt marooned after his second NFL season. The tight end was on the last Baltimore Colts team, which packed its stuff into moving vans and headed for Indiana under cover of darkness and distraction of snow in March 1984. Beach recovered nicely and had several solid seasons in the new digs.
Ice Box Chamberlin: Legend has it that Elton P. Chamberlin threw pitches with both arms in at least one game. He did know something about the cold -- he was born in Buffalo -- and he won 157 games from 1886-96.
Doug Creek: Sparky Anderson once said, "If you're left-handed and dead, they still want you." Perhaps this explains why Creek lasted 15 professional seasons. The 5.32 ERA and 199 walks in 289 innings of work in the majors can't provide much of a clue into his longevity, but they may clarify why he played for 18 teams in those 15 seasons.