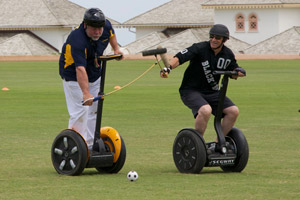 Pam Costa Steve Wozniak fights for the ball against the California Black Roses during the 2010 Woz Challenge Cup in Barbados.
With the FIFA World Cup kicking off in South Africa, you probably missed the unapologetically less grueling, but distinctly geek-a-licious global competition that crowned a champion last week off the coast of Venezuela, in the island nation of Barbados.
On a pristine pitch surrounded by Caribbean seas, fans were lulled through four days of competition, not by the deafening blare of vuvuzelas, but rather, a sweet ocean breeze and the gentle hum of zero-emissions electric motors.
Eight teams from around the globe met with mallets in hand and Segways underfoot to compete in the Woz Cup Challenge, affectionately known as the World Cup of Segway Polo (a form of polo that replaces actual horses with 2-horsepower, battery-powered human transporters).
The tournament is named after the man who has become the (inter)face of the sport. An early adopter of Segway Inc.'s human transporter, Apple Computer co-founder Steve Wozniak has been a vocal proponent of the innovation and amusement to be had behind the Segway's handlebar.