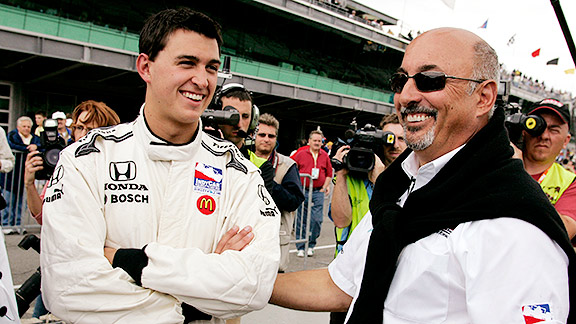 AP Photo/Tom StrattmanGraham Rahal and his father, Bobby, have a special bond, especially on a day like Sunday.
Today isn't only dad's day. It's also Dad's day. As in root beer.
The soft drink is sponsoring a car in Sunday's Iowa Corn Indy 250 IndyCar race. The Dreyer & Reinbold No. 24, the root beer ride, will run a special Father's Day paint scheme complete with custom Hot Wheels flaming fenders. The underdog D&R team also found the perfect Father's Day driver in Graham Rahal. The young American not only has three starts at Iowa but he and his famous father, Bobby Rahal, practically personify the special bond that are so often a part of racing.
Graham Rahal could easily have grown up a spoiled brat. Bobby is an open-wheel legend, after all, with Indianapolis 500 wins as both driver and owner. Unlike some famous drivers' sons, though, Graham never had a car handed to him and had to learn racing from the ground up. When he was just a kid, for instance, his dad had him write letters to potential sponsors asking for support of the race team.
No surprise, the Rahals also share a need for speed off the track, and a love for anything with wheels and a engine.
"Dad, my brother I would go out and cruise in the countryside," he said. "That was always a big bonding experience. We still do, when we can."
Besides the obvious -- having a job -- Graham Rahal has another reason to be psyched about his new ride.
"I'm not just saying this: I have always been a huge root beer fan," he said. "And the partnership with Hot Wheels too, the flames? That's pretty cool, I think."
That's because collecting die-casts, scale models, and the rest of the stuff motorsports nerds love is another hobby linking the family.
"Me and dad," he said, "have a huge collection of stuff like that."