Purdue's Duane Purvis was a star on the football field. But he's best remembered in West Lafayette, Ind., for peanut butter.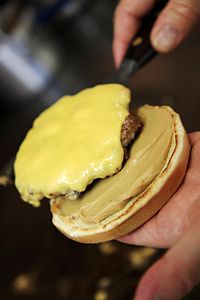 Courtesy of Gary John HigginsPeanut butter on a cheeseburger? Believe it, college football fans.
Say what?
Yep, the Duane Purvis All-American cheeseburger isn't just any old cheeseburger. It's a quarter-pound mountain of ground sirloin served at the Triple XXX Family Restaurant just off the Purdue campus that comes with a very special ingredient -- a generous helping of peanut butter slathered on the bottom bun.
Hold on a sec. Peanut butter? On a cheeseburger? Purvis' son Mike says that's just the way his dad liked it.
"He used to just make a hamburger and just smear peanut butter on it the same way you or I would smear mayonnaise," he said. "He liked the taste of peanut butter on just about anything. He said, 'It just tastes better to me.'"
Mike Purvis said his dad frequented the Triple XXX during the later years of his life, often going there for breakfast with a couple of other Purdue football stars. One day he told a cook at his favorite haunt about his unusual taste. The rest, as they say, is history.