TUALATIN, Ore. -- If Subway ever stops using Jared Fogle as their pitchman, Sherron Collins is waiting in the wings.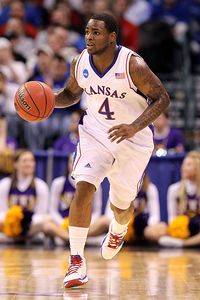 Ronald Martinez/Getty Images Sherron Collins of Kansas went on the 'Subway Diet' and lost more than 15 pounds.
Projected as a first-round pick in Thursday's NBA Draft, the former Kansas point guard still remembers his first days in Lawrence. He was 5-foot-11 and 230 pounds.
Jayhawks coach Bill Self wasn't having it.
"Coach Self told me I had two weeks to lose 28 pounds," recalled Collins, who recently worked out for the Portland Trail Blazers.
"I asked Coach, 'is Subway ok?' I told him I'd eat that. There's a whole lot of variety and healthier options there, so I went with Subway."
Collins is the winningest player in Kansas basketball history and won an NCAA championship, but he didn't play his first semester as a freshman (2006-07) while he battled to drop "football weight" from high school.
"It was the worst two weeks of my life. I pretty much ate salads the whole day and then would have chicken and vegetables for dinner. I had no energy. … Everyone was fresh and I was dying. I said I would never get that heavy again."
Thankfully the "Subway Diet" worked.
"I'm still on it. I go for the six-inch turkey. I eat their turkey all day -- no ranch, no mayo," laughed Collins, who left Kansas at 205 pounds.
Collins is now 212 pounds. He injured his groin during first pre-draft workout in Detroit and gained a little during a 10-day layoff. The "Subway Diet" still works, but don't expect Collins to stay on it once David Stern calls his name at Madison Square Garden on Thursday.
"When I get to the league," Collins said, "the thing I'll probably do first is hire a chef."