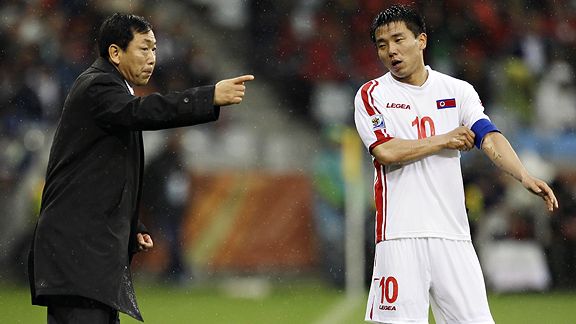 AP Photo/Kin Cheung"Coach ... can you text Kim Jong-Il or something? If not, we're totally going to lose."
North Korea was impressive in its 2-1 loss to Brazil in the World Cup. After losing 7-0 to Portugal, that moral victory was gone. That must have chafed North Korean leader Kim Jong-Il, since he relented on his plan to only allow news of North Korean World Cup victories and allowed Monday's destruction to be broadcast live.
But here's the real question -- why isn't he in South Africa? Not in the stands, but on the pitch.
The North Korean players definitely need help on the field. Why not Kim, an athlete with prodigious natural talents, serving as on-field supreme soccer commander?
After all, we're talking about the man who, according to the North Korean media, hit 11 holes-in-one during his first round of golf. For a man who flies fighter jets and writes opera, handling a soccer ball must be as easy as holing out from 185 yards. His natural gifts would certainly enhance North Korea's chances of achieving its destiny -- winning the World Cup.
But instead, Kim is at home, and North Korea will have to wait for another rainbow and shining star.