Jay Mohr is a hockey fan.
That might be hard for some to believe if they've heard the actor/comedian make fun of the sport from time to time. As a guest host of "The Jim Rome Show", Mohr has gotten plenty of mileage out of the occasional NHL crack.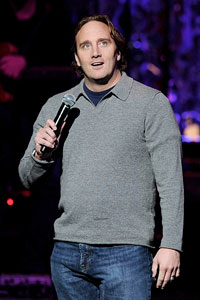 Kevin Winter/Getty ImagesJay Mohr is hosting Wednesday night's NHL Awards in Las Vegas, and he has pointed jokes ready.
"Nobody cares if you say baseball games are too long," Mohr said. "But if you say one negative thing about hockey or soccer, the phone lines go bananas."
Mohr admits that he didn't grow up with the sport. He was a teen when the Colorado Rockies relocated to his home state of New Jersey and became the Devils in 1982.
"We were used to watching Dr. J," Mohr said, "and here came this mythical creature with its own language and own set of rules."
Now though he is not only an NHL fan, but counts many players as friends.
"I don't need security," Mohr said. "I have [6-foot-3, 245-pound Montreal Canadien] Georges Laraque sleep over."
So it should be no surprise he was tapped to host the 2010 NHL Awards on Wednesday. The top scorers, defensemen, goalies, coaches and more will be honored at the Palms Hotel in Las Vegas. The show will be aired on VERSUS at 7:30 p.m. ET and will include appearances by Mark Wahlberg, Snoop Dogg, Travis Barker and others.
Mohr is looking forward to his hosting duties because he gets to write jokes for a specific audience like:
"I'm looking forward to the NHL draft soon. There are so many prospects praying that they don't end up with Edmonton."
And …
"The place to be is L.A. All the celebrities come out for Kings' games. Lindsey Lohan is in the front row using the ice for her cocktails."