Country singer Laura Bell Bundy is spending Thursday morning on a radio show in Philadelphia. Don't be surprised if Thursday night she'll be glued to her television watching the NBA draft.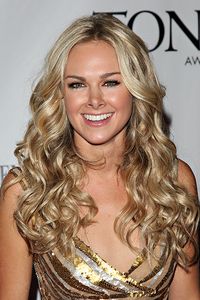 AP Photo/Peter KramerLaura Bell Bundy has a song, "Rebound," on her latest CD that she thinks would be great for TV basketball highlights.
That's because her favorite team, the University of Kentucky Wildcats, will be sending five players -- guard John Wall, guard Eric Bledsoe, power forward Patrick Patterson, center DeMarcus Cousins and center Daniel Gordon -- likely in the first round of draft.
"I'm such a fanatic," said the 29-year-old Bundy, whose grandfather, Wayne Bell, was a radio announcer in legendary coach Adolph Rupp's era for Kentucky. "I can't help it. I love traveling with the team to watch them play basketball. You should see my hotel bills!"
Bundy grew up in Lexington, Ky., and her family has had UK season tickets more than 30 years. "No matter how much we might argue about anything," Bundy said, "when it comes to the Wildcats, we're all on the same page."
Bundy even thinks her song "Rebound" on her current album "Achin' & Shakin'" could be used on ESPN for the UK highlights.
"I've always followed my heart
But now I think I need a fresh start
I've seen you mopin' around
It might do you some good if you had rebound."
"Yeah, I know it's not about basketball. It's about figuring about relationships on a rebound," said Bundy, who starred as the lead of "Legally Blonde" on Broadway. "But picture it on the air with basketball highlights on the screen. I think it can work!"