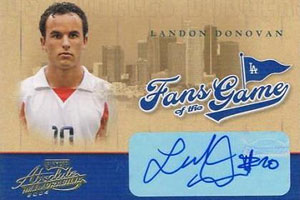 Absolute Memorabilia Fans of the GameLandon Donovan scored the winning goal for the U.S. on Wednesday and saw the value of his card rise.
Landon Donovan's shot heard 'round the world (and World Cup) less than one minute into extra time Wednesday gave the U.S. national team a stirring 1-0 victory over Algeria, a win in Group C and entry into the round of 16 for just the fourth time since 1930.
It also sent Donovan's two autographed trading cards -- 2004 Absolute Memorabilia Fans of the Game and 2010 Upper Deck MLS -- escalating uncontrollably in value almost immediately after ricocheting off his instantly legendary right foot.
Donovan, the face of American soccer, first appeared on a certified autograph trading card in 2004, pictured as a Los Angeles Dodgers fan as part of an insert set in the Playoff Absolute Baseball set.
That card, prior to Wednesday, was valued at $40 but had been selling for as much as $75 during the first 10 days of the World Cup. In the moments after the U.S. national team's victory over Algeria, one of the cards on eBay had eclipsed the $100 barrier with three hours still remaining. It ultimately sold Wednesday afternoon for $135. Four new copies of the card had been listed within minutes of the outcome, with two sporting Buy It Now prices of $499.99 and the other two featuring $200 price tags.
One copy of his 2010 Upper Deck MLS autograph card, released in May, sold last week for $249.99.