The Los Angeles Lakers just won their 16th world championship and the NBA draft is Thursday night.
That means for the Lakers' Bonnie-Jill Laflin, her work is never done.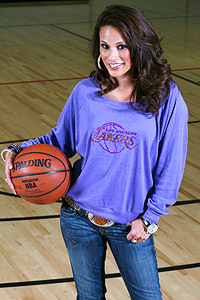 Courtesy of Bonnie-Jill LaflinBonnie-Jill Laflin is a former cheerleader and now scouts for the Lakers.
Laflin, a former cheerleader and television host, is the first female scout in the NBA and she is also the assistant general manager for the Los Angeles D-Fenders, the Lakers' developmental team.
Page 2 chased her down to ask 10 questions:
1. How in the world did you become a scout for the NBA and specifically the Lakers?
"I was covering the Lakers for KCAL/KCBS as a sports broadcaster and Jerry Buss wanted to add a female scout at the time. Buss was a friend of my father's and I've always looked at him as a father figure, and he allowed me to be a scout for a year. The team liked my scouting reports and decided to keep me on. I've been with the team for about 10 years now."
2. And you're the assistant general manager for the Lakers' developmental team, really?
"Yes I am. I really love working with the D-Fenders and watching these players develop and trying to make their dreams come true. I've been with the team since their inception in 2006 and I really enjoy being a part of seeing these players work their way up and hopefully play in the NBA one day."
3. You started out as an NBA cheerleader? How can that parlay into working in the front office?
"I've been a sports fanatic all my life and I was going to basketball games since the age of 2 and always knew I wanted my career to be in sports. So I started off in the NBA as a cheerleader and then went into sports broadcasting where I was really able to study the game more thoroughly and understand the game through conversations with players and coaches."