You've heard of farm teams, the common moniker for Major League Baseball's developmental system. But how about an All-Farm team? Get on the tractor and steer your way around this group.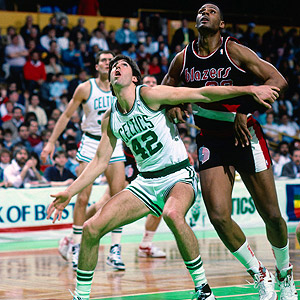 Dick Raphael/NBAE/Getty ImagesFormer Boston Celtics player Mark Acres makes our list of All-Farm Team.
Mark Acres: He played for the Celtics, which means we really can call him Green Acres. The 6-foot-11 center from California first hit the landscape at Oral Roberts University, where he exceeded 2,000 points and 1,000 rebounds in his career (1981-85). The 2K-1K group is a pretty rare one; only about 100 NCAA players have joined it in the 70-plus years in which official stats have been kept. After playing for two years in Belgium, Acres caught on with the Celtics, and he ultimately averaged 3.6 points a game in a 375-game career for six NBA teams.
Peanuts Lowrey: Harry Lee Lowrey was an All-Star for the 1946 Chicago Cubs who struck out only 226 times in 4,831 MLB plate appearances. In other words, he seldom had to say, "Nuts" in frustration.
Cotton Nash: One of only 12 men to play in the NBA and MLB, Charles Francis Nash performed some impressive double duty before the era of slick Nike slogans. In the summer of 1964, for example, he really was on a farm team. He hit 11 homers for the Los Angeles Angels' Class A outfit in San Jose. Presumably fearing boredom, the former University of Kentucky basketball standout headed down the coast after baseball ended and tried out for the Los Angeles Lakers. He made it and played 25 games with Jerry West, Elgin Baylor et al before being traded to the San Francisco Warriors, whose roster included Wilt Chamberlain. As soon as the NBA season ended, Nash reported to the Angels' camp again and smacked 22 long balls for the Double-A El Paso Sun Kings. That stamped him as a legitimate prospect and compelled him to concentrate on baseball full time. He made his MLB debut with the Chicago White Sox in 1967.