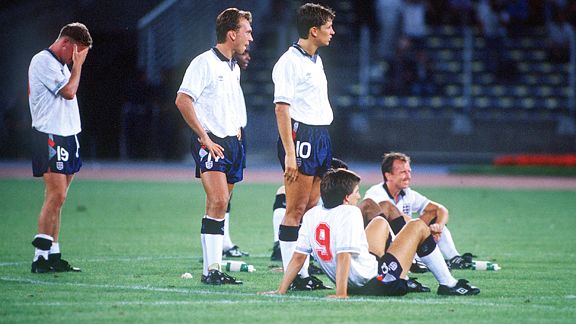 Bob Thomas/Getty ImagesEngland players look on in misery as Germany defeats them in a shootout in the 1990 semifinals.
Do believe the hype. England goalie du jour David James is as erudite as a footballer can possibly be, but his news-conference attempts to pass off the England-Germany clash as "just another game" are risible. As any English fan who has lived, and mostly died, with the England team over the past 44 years will tell you: It may just be the round of 16, but this is the Big One.
In case you missed England's opening-round travails, here's our World Cup story so far: We are lackluster. Our team was booed off after a turgid second-game tie against the mighty Desert Foxes of Algeria. Don Fabio, our Italian coaching mastermind, appeared to buckle briefly only to recover when the opportunity to brutally repress a one-man coup fomented by a deluded former captain materialized. One scrappy, crappy win against the powerhouse Green Dragons of Slovenia changed everything. Jermain Defoe's shinned-in goal catalyzed a tabloid mood swing, from doomsday to delirious. A nation believes once more. The Cup is as good as ours.
And now, enter, stage right, England's No. 1 foe: the Germans. Cue English jingoistic saber-rattling. A posturing born of keen awareness that in this matchup, Deutschland has most definitely been über, über alles. For the English in this fixture, resistance has largely proved futile.
Round 1: 1966 final
And to think, the story started so well from an English perspective. A controversial goal in our first and only World Cup final handed England a famous victory. (Apocryphal side note: When Soviet linesman Tofik Bakhramov was asked on his deathbed how he was sure the ball had actually crossed the line, he gave a one-word reply: "Stalingrad," referring to the brutal World War II battle in which more than a million Soviets lost their lives.)