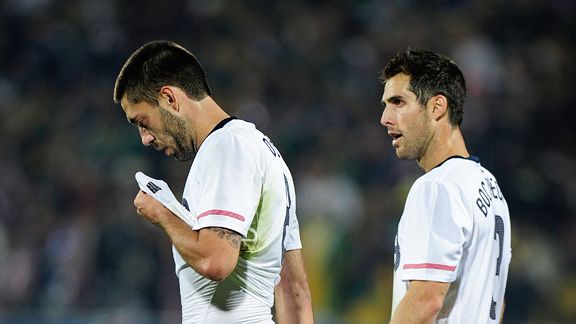 Stuart Franklin/Getty ImagesClint Dempsey of the U.S. soccer team looks dejected with Carlos Bocanegra at the World Cup.
What a wild and wacky week in American sports.
• A tennis match takes three days to complete, which is longer than a Yankees-Red Sox game.
• Millions of Americans were saddened by the outcome of a soccer game.
• And while you may have missed it, a couple got married in a sports memorabilia store during a rain delay at the College World Series. After the impromptu ceremony, they stayed to watch the South Carolina-Oklahoma game.
"Harold, what is that couple doing in the third row behind home plate?"
"Don't worry about it, Martha. They're on their honeymoon."
A few more Sunday Brunch tidbits before we get to the main courses: