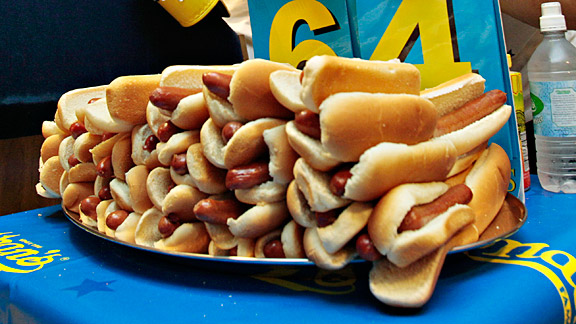 AP Photo/Richard DrewPage 2 wants to know how much food can you eat. We'll run the results on Thursday.
June has been an amazing month for unusual and captivating sporting events. There has been the World Cup -- and what fun we got from France -- plus a historically (and somewhat hysterically) long Wimbledon tennis match.
There was also another no-hitter in the majors but it was against Tampa Bay, which almost doesn't count because of how frequently it happens.
None of that can touch the Fourth of July.
When it comes to gutsy competition, nothing tops Nathan's Famous July Fourth International Eating Contest at the corner of Surf and Stillwell in Coney Island.
And you can have your Kobe Bryants or Tiger Woods, but we'll go with the three-time defending champion Joey Chestnut, who has the world record of 68 dogs (and buns) consumed in 12 minutes last year.
It doesn't get better than that but, of course, Joey is a professional. There's probably a story in your past about sports and food worth bragging about. And we want to hear it.
Yes, that's our game this week. Describe your best food-and-sports story and we will print the ones that impress us the most Thursday in Page 2. As always you need to give us your first name, last initial and your location. Send your entry to me at osogreene@aol.com.
I've got one.
A long, long time ago when I was in the fifth grade, our class took a tour of the Coca-Cola plant in Miami. Far ahead of our time, we held our own impromptu "free hot dogs and cokes" contest. Proudly I won -- with 18 dogs and 18 cokes.
Alas, I had a bad reversal of fortune, so I never turned pro.
What's your best story? You have until noon Wednesday.