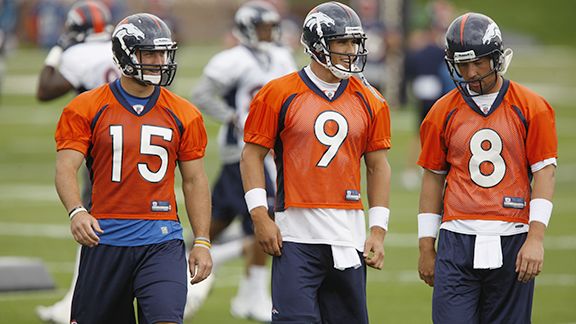 AP Photo/David ZalubowskiDenver Broncos quarterbacks Tim Tebow, Brady Quinn and Kyle Orton confer between drills.
ENGLEWOOD, Colo. -- Growing up the son of a Marine, Brady Quinn had a solid work ethic instilled in him at a young age.
As a kid, he worked out in a homemade basement gym with his father, Ty, and grew stronger every season.
"He wasn't a drill sergeant. He definitely was more laid back but he had his times when he definitely pushed me," Quinn said. "It's funny. I think he pushed me a lot more when I was young as opposed to when I was older. He pulled off the reins a little bit. But it was smart because by that time I had those types of things ingrained in me. That's how he raised me."
That work ethic has served him well in the NFL, where he is now competing with Tim Tebow and Kyle Orton for the starting quarterback job in Denver, after being traded from Cleveland in March.
After finishing 55 off-season workouts with the Broncos, Quinn, a gym rat and workout fiend who weighs about 230 pounds and is 6 foot 3, is headed to Florida for his own two-a-days before the real two-a-days start Aug. 1 in the Mile High City.
"I used to run a lot with my dad. He taught me the best way to get an edge on someone is to outwork them," he said. "I really feel that's the reason I never missed a game in college was because of how hard I worked and prepared myself."