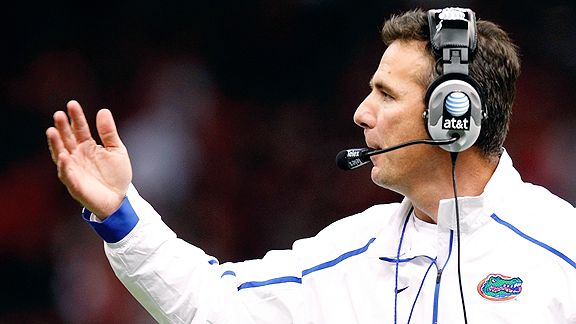 Kevin C. Cox/Getty Images
Urban Meyer joined 1070 The Fan in Indianapolis to talk about the hysteria surrounding Tim Tebow's draft status and how he's building his team for life after football.
On why he thinks Tebow ended up being drafted in the first round:
"Yeah, I actually wasn't doing interviews for awhile because it was just nonsense. You were sitting there talking about one of the most prolific football players of all time, the highest passer percentage in SEC history and the second rated passer in the history of college football. Two national championships, a Heisman Trophy, and someone's saying I'm not sure he can play quarterback. But the people who know -- certainly Bill Belichick and Josh McDaniels and Jack Del Rio, they weren't saying that. To be honest, I don't know who was saying it. I was hearing it, but I wasn't watching the talking heads very much. But the people I was talking to, he was going to be a first round draft pick the whole time."
On how he prepares his players for life off the football field:
"Two years ago, after the '08 National Championship, Chuck Heater who's been with me a long time was sitting there talking about how the intent used to be just to get guys degrees. Nowadays, a college degree won't even guarantee you a job. So now we've taken it to the next level and we call the 'Real Life Tuesdays'. We're teaching them how to interview, we're teaching them the whole process of life after football, and it's not just get your degree, get your degree, because that's not going to guarantee you a job. There's a lot of people getting their degree that are having a hard time finding work. So the best way to do that is to bring in other athletes and community leaders. We meet in small groups, we have one-on-one's and then we have big lectures about life after football. So we've devoted a lot of even practice to make sure these young guys have a life after football."
• Click here for interview transcript highlights from Sports Radio Interviews.