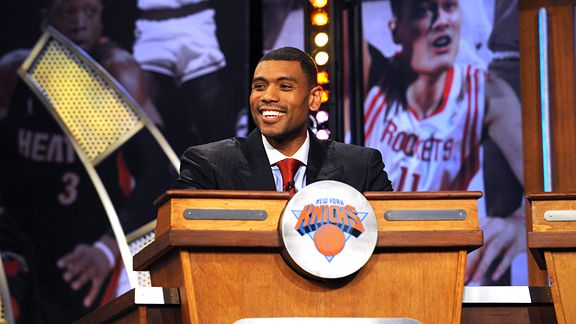 Jennifer Pottheiser/NBAE/Getty Images
Allan Houston, the assistant to the President for Basketball Operations for the New York Knicks, joined ESPN 1050 in New York on the Michael Kay Show to talk about what the Knicks and how they approaching free agency.
On whether or not Houston believes all the free agent rumors:
"I don't think we have ever seen a free agency summer like this and we may never again. Who knows what's going to happen with the new collective bargaining agreement? I do know what all this leads to is rumors. You hear people saying one thing, but all you can do is count on people you know. If there is any insight great, but the bottom line is, when I came to New York, I had no idea what I was going to do. I wanted to hear the facts and I wanted to be communicated what the commitment of Ernie Grunfeld and Jim Dolan was. To me that meant a lot to hear what they were going to do. Because they know New York, they know the cities, but they want to know what it's gonna look like in a year or two."
On how important James Dolan is to the recruiting process:
"Listen, he's a vital, vital part of all of this. That to me is what's critical because I don't think a lot of people get to know him as a person and that's fine, but I think if I'm any of these players, he's one person that I would like to meet and they will get that opportunity to spend time with him. I think it's very important that that happens."
• Click here for interview transcript highlights from Sports Radio Interviews.
• Click here to listen to the full interview with Allan Houston on ESPNRadio.com