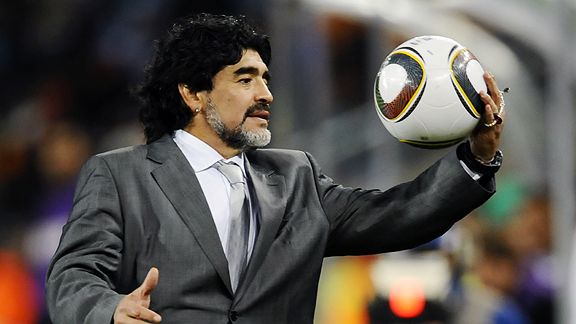 Daniel Garcia/AFP/Getty ImagesWhat will the dapper Diego Maradona of Argentina wear on Saturday?
They're two football giants, having won five World Cups between them. Yet, with the U.S. team now out of the picture, there may be a tendency for stateside residents to overlook Saturday's quarterfinal match between three-time champ Germany and two-time winner Argentina. But don't you dare. Here's why:
1. It's a World Cup rivalry with street cred. Let's get caught up: Both teams have knocked out the other in a World Cup final (1986, 1990) and they're coming off an '06 quarterfinal shootout that ended with some hot-tempered players and managers mixing it up on the field. Neither side is underestimating the other. Both are seeing red.
2. Breakfast at Cape Town wins out over Breakfast at Wimbledon. Forget the strawberries and cream. Get out the grill. This sizzling matchup at Cape Town's Green Point Stadium calls for a spread of German bratwurst and Argentinean steak.
3. Messi vs. Mesut. With his achievements at club level (FC Barcelona), Argentine superstar striker Lionel Messi has a powerful cache. But German wunderkind Mesut Özil has been stealing the spotlight in South Africa. Let's just say it's a juicy duel.
4. Diego "Armani" Maradona. The Argentine coach, who's now suiting up a la Pat Riley circa 1985, fires up the Albiceleste with his animated coaching. But the big question for the postgame news conference: "Diego, who are you wearing?"