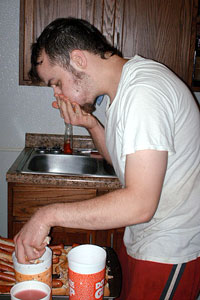 Matt LindnerPat Bertoletti practices for Sunday's contest by ... uh, eating hot dogs.
CHICAGO -- Two giant trays of hot dogs and five double Big Gulps of pink lemonade, enough food to feed his entire block, sit waiting on Pat Bertoletti's kitchen table.
But the man they call "Deep Dish" isn't having a block party -- he's getting ready for practice, and he's going to eat all of this inside of a 10-minute span. The world's fourth-ranked competitive eater has only days to prepare for the July 4th Nathan's Famous Hot Dog Eating Contest and well … time's a-wastin'.
"I'm really not looking forward to this," he said. "If I had my choice, I wouldn't do any preparation. I'd just go and have fun."
What follows can only be described as controlled chaos. With the Dillinger Four blaring from his iPod stereo, in the blink of an eye Bertoletti turns from a mild-mannered caterer into the human hot dog consuming machine that has awed crowds the world over.