For many watching television on the Fourth of July, there's but one highlight -- it's the Nathan's Famous Fourth of July International Hot Dog Eating Contest on Coney Island.
Rather than insult your gastro-intestinal intelligence by recapping stats from the International Federation of Competitive Eating (or IFOCE), which I know the likes of Page 2's Jerry Greene will be all over, I'm here with a pair of items that are a little less tasty -- but still significant on this holiday of unhealthy eating.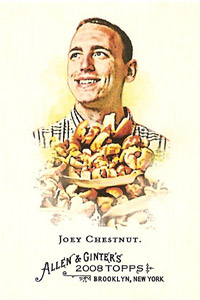 ToppsJoey Chestnut reigns eating but not of trading cards.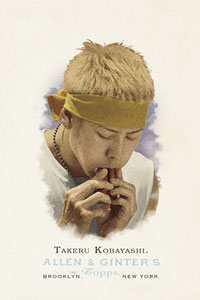 ToppsTakeru Kobayashi rules cards, if not the eating contest anymore.
I've got the statistics -- no, not the number of dogs ingested -- for Takeru Kobayashi and Joey Chestnut's trading cards. You see, both of these champs have appeared on baseball cards in past sets of the eclectic Topps Allen & Ginter sets, which include "world's champions" in many sports and competitions.
The first competitive eater to appear on a card was Kobayashi, who was in the 2006 set, followed by Chestnut, who had cards in 2008.
While the two have traded titles as the king of indigestion, which one wins the battle on cardboard?
It's Kobayashi, whose 12 cards come in with a value of 48 Nathan's dogs (if you're eating on Coney Island). That's $153.75 for the rest of us.
Chestnut appears on more cards listed in the Beckett.com database, at 21, but the ones that are priced (not too rare to establish a reliable average value) total just $46.35.
So, once again, Kobayashi is king.
The most valuable card of the bunch is Kobayashi's autograph card from 2006, which is worth $120. Chestnut's autograph checks in at just $50.
Between the two, they signed just 390 cards so they aren't easy finds -- kind of like an uneaten hot dog on Sunday in Coney Island.