We're nuts. We know that. But at least for today, we're all about fruit.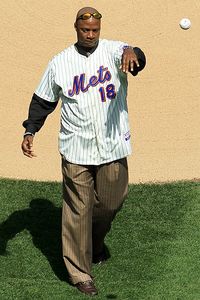 Chris McGrath/Getty ImagesFormer New York Mets player Darryl Strawberry makes Page 2's All-Fruit Team.
Here's the All-Fruit Team for 2010:
Morris Almond: An almond is classified as a fruit rather than a nut. Anyway, Morris Almond played briefly for the Utah Jazz in 2007-08 but has spent most of his time in the D-League with the Utah Flash, Springfield Armor and Maine Red Claws. Perhaps tired of the minors, Almond decided to sign with a real team in April. Specifically, that's Real Madrid.
Don "Grapes" Cherry: The Rush Limbaugh of the Rink, the Canadian hockey announcer is known for his outlandish rhetoric and wardrobe, both of which seem engaged in a perpetual battle for one-upsmanship.
Tomato Face Cullop: This is another classification debate, one the U.S. Supreme Court has sunk its teeth into. (The justices say the tomato is a vegetable for purposes of tax laws governing fruits; botanists call it a fruit.) Outfielder Henry Nicholas Cullop became "Tomato Face" because of his propensity to turn red when angered. He led the National League in strikeouts by a batter (86) while playing in only 104 games for the Reds in 1931. (A few of today's freest swingers have already surpassed 86 whiffs for 2010).