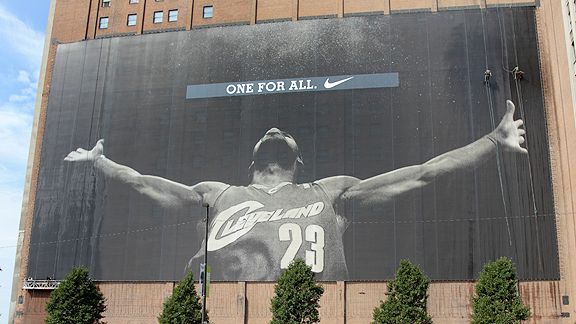 AP Photo/Amy SancettaWorkers will begin to start tearing down this banner of LeBron James.
LeBron James got it right -- almost.
He quickly showed all those NBA owners and high-profile executives who is boss when he made them come to him in Cleveland instead of him flying around the country to see them.One by one, in this order, the New Jersey Nets, New York Knicks, Miami Heat, Los Angeles Clippers [snicker], Cleveland Cavs and Chicago "He saw us last!" Bulls had to pay their respects to the Godfather of pro basketball.
His one mistake?
Not having them show up at the same time.
He should have had them line up in one big room to play a game of "LeBron says."
Imagine all those rich suits having to play the game as James orders:
"LeBron says -- flap your arms! ... LeBron says -- crow like roosters! … Slick back your hair! … Oops, sorry, Coach Riley, I didn't say 'LeBron says,' so you're out and so is the Heat."
What's that you're saying? A game of "LeBron says" would be a silly way to make such a vital decision?
Exactly.
And now for a few tidbits before we get to the main courses of this July Fourth Sunday Brunch: