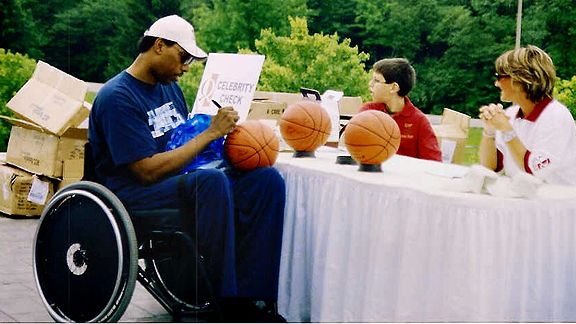 Courtesy of Double QLandon Turner, confined to a wheelchair since 1981, is a motivational speaker and still loves the game.
In late June, Landon Turner sat in his wheelchair in Indiana and watched the Washington Wizards select John Wall as the first overall pick in the 2010 NBA Draft.
It brought back memories.
Turner has been sitting in a wheelchair ever since a one-car accident on July 25, 1981, left him paralyzed from the chest down, four months after Turner helped Isiah Thomas and Indiana University beat North Carolina for the 1981 NCAA Championship.
That didn't stop the Boston Celtics from drafting Turner in the 1982 NBA Draft.
"It was a complete surprise. It was close to my heart when they drafted me," said Turner, whom Boston selected as the last pick in the 10th and final round.
"Red [Auerbach] did send me a couple championship watches -- from '84 and '86 -- which was very nice," Turner said. "I have them to this day. They are in my safe right now."
Turner, a 6-foot-10, 235-pound forward and center, made the all-tournament team as a junior and averaged 9.5 points and 3.7 rebounds per game during the regular season. He was NBA-bound and still draws comparisons to North Carolina's James Worthy, whom Turner guarded in the title game and went first overall in the '82 draft.
"Landon was the type of athlete that Worthy was. He [Turner] had all the makings of being a great power forward," remembered Thomas, Turner's teammate and now head coach at Florida International University.
Then the accident happened. Turner was hospitalized and unconscious for five days. He spent five months there, immobilized and unable to speak because of an emergency tracheotomy.
"I will never forget walking into the hospital room and just seeing him wired up to all these machines," said Thomas, who was drafted by the Detroit Pistons in 1981. "They had this brace on his neck. I just remember how massively big he looked lying there."