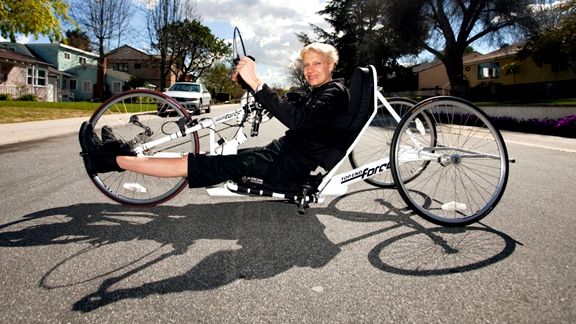 Hans Gutknecht Kristina Ripatti-Pearce's team completed the 3,000-plus mile race from California to Maryland.
LOS ANGELES -- Oreos dipped in honey and peanut butter were what got Kristina Ripatti-Pearce across the country.
The former LAPD officer, who is paralyzed from the chest down after a June 2006 shooting, wasn't planning on eating badly. When she started the Race Across America in early June, the plan was to eat protein shakes and chicken. But just like sleep, she traded in healthy choices for things that would get the job done.
"Pretty much anything that had sugar for instant energy," she said.
Of course, that's just how the 37-year-old mother of two lives her life. Even after an armed robbery suspect shot her three times at the end of a frantic foot pursuit four years ago, her fiery persona and determination to make a difference remain in tact.
"If anything, it just got more intensified," she said.
Whether she was chasing down soccer balls on the Cal Lutheran University (Thousand Oaks, Calif.) team, or thugs on the streets of South Central on an elite LAPD gang unit, Ripatti-Pearce went through life at an ultra-intense sprinter's pace.
The Race Across America was no different.
Her LAPD team raised money and awareness for Operation Progress, a nonprofit supporting college-bound teens living in the same gang-infested neighborhoods she spent years patrolling in the LAPD's Community Resources Against Street Hoodlums (CRASH) unit depicted in Dennis Hopper's 1988 film, "Colors."
Ripatti-Pearce's LAPD team completed the 3,000-plus mile race from Oceanside, Calif. (San Diego County) to Annapolis, Md., in nine days. She rode mostly on the route's long flat and downhill stretches, averaging two hours of sleep a night -- in support vehicles -- along the way.