Long before he was Paris Hilton's boyfriend, a reality star on "The Hills" or a minor-league baseball player, Doug Reinhardt held a title that gives him perhaps the greatest bragging rights of all.
"I played quarterback in high school and Mark Sanchez was actually my back-up," Reinhardt said. "He transferred out because he wouldn't have played until he was a senior or something."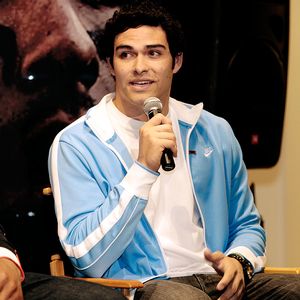 AP Photo/Frank Franklin IIIn high school, Mark Sanchez was backup quarterback to reality star Doug Reinhardt.
The decision to leave Santa Margarita High School in California for Mission Viejo High School proved be a smart one for the Jets starting quarterback who went on to the University of Southern California before being drafted fifth overall in the 2009 draft by the Jets.
Despite the accolades, Reinhardt is quick to remind Sanchez of his backup days. "Hey, you're a quarterback for the Jets," Reinhardt would tell Sanchez. "Remember when you were my backup?"
After switching from football to baseball and working his way through the minor-league farm system, injuries forced him to sideline his dreams, so he did what every young California scenester hopes for, he got on a reality show.
"The week after surgery I go out with some of my friends and I run into Lauren Conrad and we hit it off and we started dating and the producers asked me if I wanted to be on the show and I said, yeah why not?" Reinhardt said of landing on "The Hills". "My baseball career is probably over so I might as well do it."
The popularity of "The Hills" took off and Reinhardt became a regular at the Hollywood hotspots and coveted courtside Lakers seats, camping out next to Leonardo DiCaprio and more recently, fellow reality stars the Kardashians.
Reinhardt looks to be joining the Kardashian sisters with his own E! Entertainment reality show pilot, "Reinhardt's: Family Comes First" about his post-Paris Hilton dating life including former Miss World, Lane Lindell, and showing his sister the ropes to Hollywood.
Not bad for an injured baseball player.