Legendary actor Danny Glover said it might seem strange to the general public that LeBron James is having his announcement Thursday night at the Boys and Girls Club in Greenwich, Conn. But, Glover said, it shows that James is trying to connect to young fans.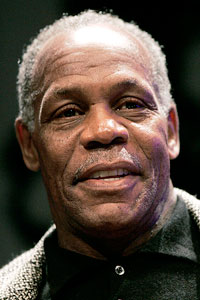 AP Photo/Michael DwyerDanny Glover has directed a short film about doing the right thing.
James will announce where he's playing basketball during an hourlong special called "The Decision" on ESPN at 9 p.m. ET Thursday. Sales of sponsorship for the program will go to the organization.
"It's wonderful that he's putting proceeds from the TV ads back to the youth," said Glover, who strongly supports various humanitarian and political causes. "It's an extraordinary statement and an important statement that he has responsibility in the hearts and minds of young people, especially those who follow him."
Glover, the 63-year-old actor and director who has appeared in more than 50 movies, also on Thursday will unveil his new project in a similar vein.
"Second Line" is a 4 ½ minute short film, directed by Glover and written by close friend Nicole Middleton, about one man's journey from indifference to understanding. The project is produced by Responsibility Project, funded by Liberty Mutual.
"We have responsibilities to be respectful of one another," said Glover, who considers himself a "cultural producer" these days. "In some ways, it may sound esoteric but we should celebrate relationships."
Glover, looking back on his career, said his success over the past 30 years has afforded him opportunities to do projects with worthwhile goals.
"When you have had a career as long and fulfilling as I have, it's not about the money," Glover said. "The best part of my life is where I am now."