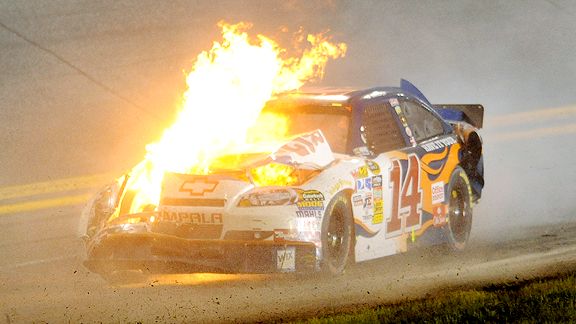 John Harrelson/NASCAR/Getty ImagesBeing flame broiled? Listen to Tony Stewart and you'll have nothing to worry about.
Tony Stewart joined the Dan Patrick Show on Wednesday to give a few tips on how to deal with a crashing your racecar:
On how he got out of his burning car this past weekend:
"Well the Burger King car was flame grilled at the time, pre-flame grilled. Basically it was going out, it wasn't like it was becoming a big raging fire. In all honesty, I have been on fire before and with all of the Hans devices and all of the extra gear that we have in there now, it is almost a situation where you get yourself to calm down and be methodical and go through the steps one at a time. If the fire were getting worse, I would have been in a bit of a hurry but it was going out. So I just made sure that I kept my time and do everything right and got out the right way."
On what his first reaction is when he gets into a crash:
"Well to be honest, where we were at when we went into turn three, out of the corner of my eye I saw the #2 car ahead of us going down into the grass so you know automatically that there is going to be trouble there. But by the time I got into three, there was so much smoke there that you couldn't see through it enough to know where to go. The spotter couldn't tell us where to go. Everybody was just blocking the whole race track so there was nothing you could do in that particular situation but hold on and you just sit there. We dodged three of those wrecks in the race earlier and you will be like, 'Am I cat with nine lives? Am I going to make it through the whole night without running out?'"
On whether he braces for impact when he sees a crash is imminent:
"Yeah, you do and that is just instinct. That is not something that you train for. It is not something that you try to do, it literally is a situation where you just kind of hang on. If you know you are going to hit something you hang on and go on from there. But you are better to relax. It is like anything else, you get scared you tense up."
• Click here for a full transcript of highlights from the interview