The obits called him an enforcer. But for hardcore fans of hockey fighting, former NHL forward Bob Probert -- who died Monday after suffering chest pains while boating with his family -- was something more.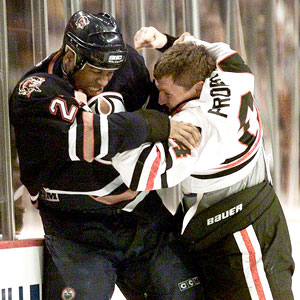 AP Photo/Ted S. WarrenBob Probert tangles with another famed enforcer, George Laraque, during a heavyweight bout in 2001.
Namely, he was the best there ever was. The most beloved, too.
"He was the Wayne Gretzky of hockey enforcers, the complete package," said Eric Beman, a lifelong fight fan and player agent who represents enforcers. "Over his career, he fought anyone and everyone, won most of his fights in warrior-like style and never picked his spots. He struck fear into his opponents and protected his teammates to the fullest.
"What made him so popular was his willingness and love for his job. He will always be the measuring stuck for any new heavyweight breaking into the NHL."
With that in mind, Page 2 presents five of Probert's most memorable brawls, as suggested by Beman and the fight fans at hockey-fights.com:
1. Probert vs. Tie Domi, 1992
The most-hyped, most-anticipated fight in NHL history was actually a rematch of a scrap the previous season that saw Domi cut Probert and make a heavyweight belt gesture en route to the penalty box. The New York Rangers sold T-shirts promoting Round II at Madison Square Garden; Probert won an energetic, one-sided scrap that broke out just seconds into the game, displaying the desire for payback that marked his career.
2. Probert vs. Marty McSorley, 1994
A marathon rumble between two proud, veteran enforcers -- one showing that Probert possessed the technical fighting skill to match his toughness, heart and knockout power.
3. Probert vs. Troy Crowder, 1991
Considered the league's top heavyweight, Probert was coming off a surprise opening-night defeat to rookie Troy Crowder. Seeking payback -- and looking to set the heavyweight pecking order straight -- Probert dropped Crowder to with a huge uppercut, earning a standing ovation from the partisan crowd at Detroit's Joe Louis Arena.
4. Probert vs. Dave Brown, 1991
¿Quien es mas macho? On a list of all-time baddest NHL fighters, Probert and Brown widely are considered Nos. 1 and 1a. Probert withstood an early beating and nearly came out of his shoulder pads before unleashing a hammerin' right hand that sent Brown to the ice, solidifying Probert's historically intimidating status among fight fans.
5. Probert vs. Craig Coxe, 1985
A star is born. A 20-year-old making his NHL debut on the road, Probert engaged Coxe in a wild, back-and-forth slugfest, using a late surge to earn a winning decision on fight fans' cards. The pair had a second memorable tête-à-tête two seasons later which was again won by Probert -- again via the determination and willpower that made him the best-loved enforcer in hockey history.