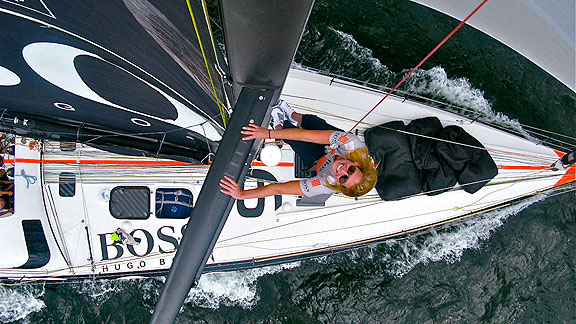 Page 2 reporter Lisa Altobelli stands aboard the $4.5 million vessel, the Hugo Boss II.
British skipper Alex Thomson is one of the best in the world in his sport of solo around-the-globe sailing, but when he glided his newest $4.5 million vessel, the Hugo Boss II, into Manhattan's North Cove Marina last week, even Thomson knew the boat was the real star as gawkers lined up against the railings to ask about the gleaming 60-foot racing yacht that he helped design.
"It's not that I blame anyone since she truly is a beauty, but to be honest, the only thing I wanted at that point was a burger and a beer," said Thomson, 36, after his month-long trans-Atlantic journey with a four person crew in which they subsisted on less than appetizing freeze dried cuisine.
Before setting sail to New York where they'll stay until Sunday, the sleek carbon-and-Kevlar Open 60 boat was christened at a 650 person bash in London's Canary Wharf by "Inglorious Bastards" actress, Diane Kruger, when she sprayed a bottle of Pol Roger champagne over its deck.
Once aboard, it's evident that while this boat might look pretty, it's built for speed instead of luxury and can fly up to 35 knots with some help from the wind gods pumping its 100 foot sails. Thus, with slim to no amenities to weigh it down, a bucket is a substitute for a bathroom and a package of baby wipes takes the place of a shower. The sleeping arrangements aren't much better, consisting of a crawl space below deck with bean bag chairs to crash on -- not that Thomson spends much time crashing since he has trained his body to sleep for only 20 minutes every four hours during the three months on the water it takes to complete a race.
When asked why any sane man would put himself through this, Thomson said he believes single-handed, around-the-world sailing is the most difficult sporting challenge in existence today and that he's one Brit who definitely loves a challenge.
"I'm an extremely competitive person," Thomson said. "When I play squash or tennis I'm the only one who leaves the court with cuts and bruises so with this, I get to be competitive seven days a week for 12 weeks. It's a dream."