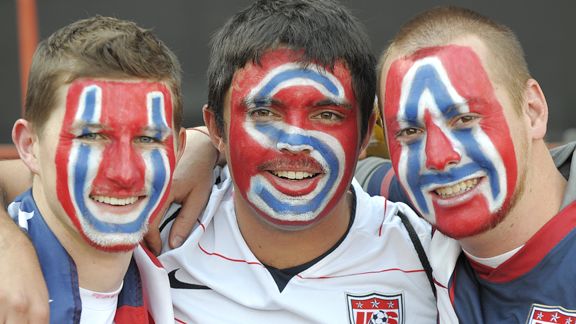 Timothy A. Clary/Getty ImagesThese boys better get home and start researching for their Fantasy Football draft.
Other countries boast about their passion for soccer but they shouldn't. Americans would be just a passionate about The Beautiful Game except for one crucial fact holding us back. It would be far too exhausting given how much passion and time we must devote to all our other sports.
At the start of the year we've got basketball -- both the NBA and college -- plus the bowl games and the NFL playoffs. The Super Bowl and Super Bowl commercials. NASCAR. We've got spring training and March Madness. Opening Day, the Final Four and the Masters. The NFL draft and the NFL mock drafts. Spring football. The Triple Crown of horse racing and the Indy 500. The Stanley Cup playoffs, the NBA playoffs, the U.S. Open and the College World Series. More NASCAR. Interleague play. The NBA draft, the NHL draft and the baseball draft. Baseball's All-Star Game. The WNBA. NFL training camps and college training camps. The pennant races and the football season, both college and pro. The U.S. Open in tennis. Still more NASCAR. Baseball's postseason and the start of the NHL and NBA seasons. Midnight Madness and the college basketball season. Boxing. The Hot Stove league. Conference playoffs and the bowl season.
And that's just in a normal year. Every other year we also have to follow the Olympics, where our athletes are going to win more medals than just about everyone else.
Plus, there's bowling.