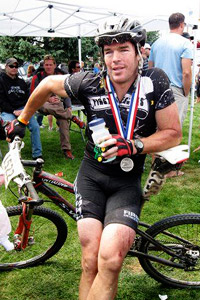 Courtesy of Ryan SutterRyan Sutter wants to be known as an athlete and not just a reality TV star.
As the first "winner" on "The Bachelorette", Ryan Sutter knows a little something about reality TV. But after "The Bachelor" aired the mother of meltdowns on Monday courtesy of Jake Pavelka and Vienna Giardi, Sutter is proof that you can leave the drama of reality television behind.
Ryan and Trista Rehn became America's first famous reality-show sweethearts when she picked him at the conclusion of "The Bachelorette's" first season in 2003. Married at the end of the year, their wedding was televised by ABC and seen by a viewing audience of 26 million, still one of the highest-rated broadcasts in reality-show history.
But Sutter, who is a Colorado firefighter and had a short-lived NFL career, is also a glutton for punishment. And he's leveraging his celebrity and love of endurance sports to raise money for charity by entering what he calls 10 of America's most grueling athletic competitions. You can read about it at his site.
Now living in Vail, Colo., Sutter has been training 15-20 hours a week, juggling his firefighting job with helping Trista with their two children (Max, who will turn 3 in July, and 14-month-old Blakesley).
When Sutter approached Trista with the idea of his endurance tour, she was torn.