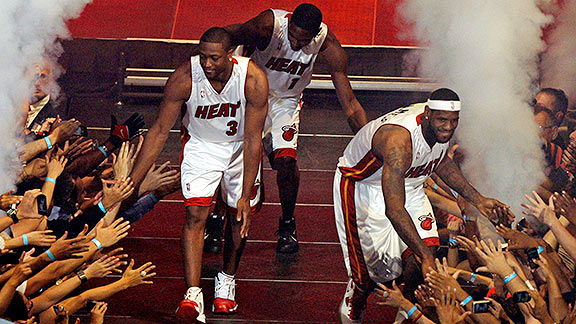 AP Photo/J.Pat CarterDwyane Wade, Chris Bosh and LeBron James greet fans during a fan event in Miami Friday.
MIAMI -- This was audacious behavior even for Miami, a city that basks in excess when it comes to partying.
The stage, the runway, the huge neon sign that said "HEAT" in red letters. The smoke machines. The colored lights. Yeah, maybe it was a bit over the top for some, but this was doing it right, Miami style.
As 12,000 rabid Heat fans cheered wildly at AmericanAirlines Arena on Friday night, LeBron James, Dwyane Wade and Chris Bosh -- who Wade called "arguably the best trio ever to play the game of basketball" -- emerged from below the stage on lifts, backs to the crowd.
When they finally turned and presented themselves to the world for the first time together in Miami Heat uniforms the cheers rose to an ear-splitting decibel level. Then smoke filled the stage and the players strutted down the runway, slapping hands with giddy fans.
"This is amazing," Bosh would later say.