ALLEN PARK, Mich. -- The three guitars in Jim Schwartz's office may suggest that their owner has a twinge of musical ability.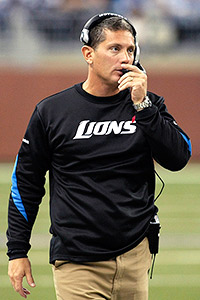 AP Photo/Tony DingJim Schwartz can't sing but he loves listening to music.
Yet, for all of the song lyrics Schwartz has stored inside his head, the ability to reproduce them in ear-pleasing fashion eludes the Detroit Lions' coach.
"I'm an awful singer. I'm awful at whatever instrument you want to play, but I love music," Schwartz said. "And I love it for a lot of different reasons."
His musical tastes range from Judas Priest to Quiet Riot to Lynyrd Skynyrd's "Gold and Platinum" -- one of the many LPs that Schwartz wore the grooves out of as a teen.
He took his musical tastes and the prerequisite mullet to buttoned-up Georgetown, where Schwartz was a four-year letterman at linebacker.
"I wasn't exactly mainstream," he said. "There was a lot of R.E.M. there, but there were enough football players, baseball players and lacrosse players that were into Metallica that I could fit in."
Since then, his musical tastes have expanded and include an iTunes library of more than 5,000 songs -- from Kid Rock to Hank Williams, Jr. to Megadeth. Over the years, Schwartz has found new meaning in his music. As much as he appreciated the abilities of his favorite musicians, he found it was the lyrics that stuck with him.
"Maybe that's what I appreciate about some of these songs," he said. "They tell a story of where you've come from and where you're going. And I think everyone can associate with that."