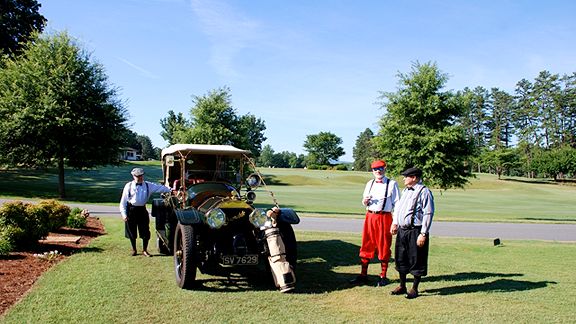 Matt DoddsCheck out the outfits and the car: In a few days, the U.S. Hickory Open will be held in North Carolina.
As a brand management consultant, Matt Dodds is all about marketing products that are newer, bigger, faster, longer. Better.
But when Dodds goes to the golf course, he takes the opposite approach.
"When I pick up my club now, I can smell it. It's of the earth, it's iron, it's wood, it's leather, it's been crafted." the resident of Burlington, Vt., said. "I've been the guy buying a new driver every three years. I'm off that wagon now, which is kind of nice."
Dodds only uses hickory clubs made prior to 1935. And he's not the only one -- the Society of Hickory Golfers claims almost 300 members nationwide, a number that grows every year.
The highlight of the season is the U.S. Hickory Open, which will be played July 13-14 at Mimosa Hills Golf and Country Club in Morganton, N.C. Only wooden-shafted clubs and club heads designed prior to 1935 will be permitted.
Between 60 and 70 golfers are expected to compete. Among the players last year, there was a group from California, and two years ago there were players from England and Scotland.
Though it's not required, golfers at the Hickory Open are also encouraged to look the part, with knickers, plus fours, dress shirts and ties straight from the Bobby Jones catalog.
"I think people are trying to get back to their roots in the game," Barry Markowitz said, "and the only way you do it is go back and play the hickory clubs."