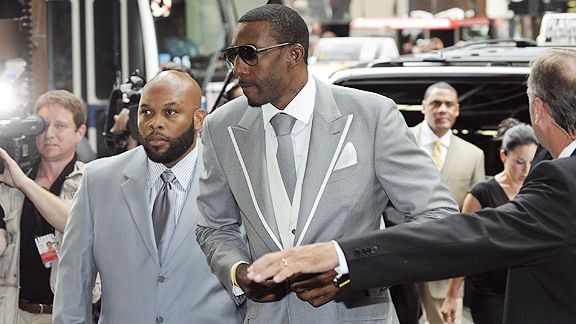 AP Photo/ Louis LanzanoAmare Stoudemire arrives for the wedding of friend Carmelo Anthony.
LOS ANGELES -- This annual ESPYS week kickoff soiree at the Playboy Mansion began at 8 p.m. PT Monday. But two hours into the Sports Dream Celebrity Poker and Pool Party, the pool lay still. The poker tourney was the thing. Talk among the crowd -- which was heavy on first-timers like skateboarder Ryan Sheckler, Raptor Amir Johnson and Raiders first-rounder Lamar Houston -- centered on LeBron, of course. And the host was still trying to snag his first drink at the open bar.
"Is my money good here?" Hugh Hefner asked, waiving a $5 bill at his bartender.
"It sure is?" the tender stammered.
It sounded like a question.
But the vibe picked up at around 10:30 p.m. That's when a dozen women leapt into the pool to splash each other. That's also when -- and this might be a coincidence -- a tall man stepped out of his limo, a Yankees cap atop his head and a "Damn, I just signed with the Knicks!" type smile splattered across his face.
Amare Stoudemire, New York's newest star, is a human firecracker. And these days, in places like this, he's kind of a big deal.