The first thing you notice is the air-conditioning. When you step off the elevator on the second floor of the spanking new W Hotel in Hollywood, it rushes at you like a defensive end in a contract year. Welcome to the ESPYS swag suite. This is ground zero for free stuff. And if you don't have a purple AND a white wristband, guess who doesn't get in?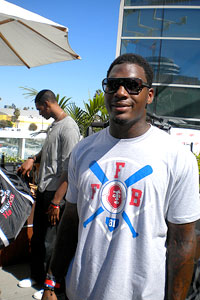 Chris Palmer/ESPN The Mag Cowboys tight end Martellus Bennett enjoys the pre-ESPYS festivities as Heat forward Chris Bosh hangs out in the background.
On the eve of the ESPYS, the long corridor is teeming with athletes and plenty of energy. Free stuff is the name of the game and the A-listers are out in force to collect bags of swag they've earned for becoming, well, A-listers.
First up was newly minted Knick Amar'e Stoudemire, who spent about 45 minutes hopping from one of the dozen gift suites to another.
Stoudemire, dressed casually in a blue Knicks T-shirt (with old school logo), white linen pants and navy blue Chuck Taylors, drifted from suite to suite checking out the merchandise like an old swag pro.
"This kind of thing is always fun," Stoudemire said. "Getting free stuff is definitely cool."
After perusing shaving gels in the Gillette suite, Stoudemire swung buy the Rafaello & Co. jewelry suite where a table displays several hundred thousand dollars worth of gaudy bling. The centerpiece is a watch encrusted with more than 200 diamonds and valued at more than $1 million. The jeweler tells Stoudemire that it's one of only two in the world. This one was purchased by Cash Money CEO Baby. The other belongs to Elton John.
"I don't care how much money I have, I would never in a million years buy something like that," Stoudemire says. "But with all those diamonds you would never need to know what time it is."